Meet the Team at Warwick Music Group
Warwick Music Group, based in Warwickshire, England, is the British company behind the award-winning and best-selling range of plastic musical instruments. We also run a successful wind and brass music publishing division called Warwick Music Publishing.
As musicians, teachers and parents ourselves we love making the joy of music accessible, sustainable and fun - because we know how important it is for everyone to have the opportunity to make music.
Steven Greenall
Founder & Chief Executive
Steven has over twenty years experience working in the music industry. With degrees in Electrical Engineering and a MA in European Cultural Policy & Administration from the University of Warwick, where he now serves as a Course Tutor on their MA in Creative and Media Enterprises, Steven served as Executive Director of a non-profit international music association based in the United States from 2000 – 2007.

Steven is founder and CEO of Warwick Music Group and started playing the trombone at the age of nine. Based in North Warwickshire, the company manufactures musical instruments that make the joy of music accessible. sustainable and fun including the world's first plastic trombone, pBone, which has sold over 250,000 units worldwide and won major international awards including the prestigious Queen's Award for Enterprise (Innovation) in 2019.

He was elected as a board director for the UK music industry trade body, the Music Industries Association, in 2019 becoming its chair in 2020 and is frequently interviewed or invited to present guest lectures on cultural entrepreneurship, music education and the future of the music industry.

Steven lives in Warwickshire with his wife, Kate, their three young children, two ponies and faithful labrador, and enjoys coaching his local youth rugby team.
Kate Greenall
Chief of Staff
Kate has always had a love for music and after starting to play the clarinet aged six went on to study music at the Royal Scottish Academy of Music and Drama. She joined Warwick Music Group in 2010 as Social Media Manager and now serves as Chief of Staff where her role is the day to day management of the team. She ensures activities are streamlined within the organisation, supporting the priorities of the business to help it grow.
She now spends most of my spare time supporting my three children as they learn their own instruments!
Chris Fower
Director of Creativity and Innovation
As an undergraduate Chris studied Jazz at Leeds College of Music and then became a member of the Advanced Studies, post-graduate performers course at the Royal Academy of Music and Principal Bass Trombone with the European Community Youth Orchestra under Claudio Abbado. He then spent 25 years as a busy freelance performer based in both London and the North of England working with a wide variety of ensembles and artists, including being a member of Grimethorpe Colliery Band, The British Philharmonic Orchestra, Dame Shirley Bassey's Orchestra and the Creative Jazz Orchestra.
Alongside this Chris has worked extensively in all areas of music education, latterly as a leading deliverer and trainer in informal, large group practice. This included roles as Leader in Wider Opportunities at Hertfordshire Music Service, Leader of Instrumental Development for Derbyshire City and County Music Partnership and as a face to face trainer on the Trinity Guildhall/Open University "Whole Class Instrumental Learning" national training program.
He became a key member of the team that created pBone, the plastic trombone in 2011/12 and has been involved with Warwick Music Group in various roles since then. Chris is currently Director of Creativity and Innovation for the company, a role which includes overseeing product development and improvement, creativity and education.
Rich Breske
Director of Marketing (North America)
Rich grew up on Chicago's south side and attended Marist High School, where he was an active member and drum major of the school's marching band. He attended Elmhurst College, receiving a degree in marketing and music-business. His early career included time at the Chicago Symphony and Ravinia Festival organizations, as well as classes at the Chicago-Kent College of Law.
Rich's career has been dedicated to music education. He has worked closely with educators, professionals, retail businesses and corporations. He has established key education partnerships and has served on the board of directors for several non-profit education organizations.
For the past seven years, he has provided executive planning and marketing acumen for 21st century companies through Strategic Marketing Management, LLC. Prior to opening his own firm, he served in key management roles at KHS America, Inc., the Conn-Selmer division of Steinway & Sons, Inc., and United Musical Instruments, all worldwide manufacturers and distributors. He served in the management of the SMART Foundation which provided programs and advocacy support for arts education. He has also authored several publications focused on the arts and education.
Rich is also currently on the boards of the West Point School of Music (board chair) and the American School Band Directors Association Foundation.
Chris Shea
Director of Sales (Asia-Pacific)
Early on in Chris's working career engineering played an important role. After studying Mechanical Engineering at college he went on to become a Service Manager for a large UK Agricultural Equipment Distributor during which time he undertook external manufacturer training at different European locations.
After a number of years working with two large European machinery manufacturers, Chris decided he wanted the challenge of starting his own business and proceeded to set up what became a successful environmental services company, which 12 years later he sold to a large US multi-national business.
Following a period of semi-retirement in 2012 Chris was tempted back to business working with a Chinese company that started to develop plastic musical instruments, much of his time there was devoted to product development and brand building. In 2016, Chris was offered the opportunity of joining Warwick Music Group which he accepted without hesitation and has since been involved once again with new product development and latterly, utilising his experience in sales and the music industry, becoming the Director of Sales for the Asia & Pacific Region.
Chris now lives and works from the WMG base in China and is married with two young multi-lingual children whom can speak far better Chinese than himself.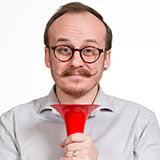 Jonty Hines
Director of Sales (United Kingdom)
Jonty is Director of Sales (United Kingdom) at Warwick Music Group. As a student, Jonty studied tuba and piano at the music centre his children now attend and in the early noughties he travelled the UK, playing the piano and singing as part of a touring covers band performing classic hits from as far back as the sixties. His wife and brother-in-law were also part of the band. They now host yearly charity events, and in 2017 raised over £600 for the Stroke Foundation.
Jonty joined the WMG team having spent over 14 years with Normans Musical Instruments. His extensive experience of working within both the music industry and the education market makes him perfectly placed to manage key account relationships for the business, supporting our network of official dealers across the United Kingdom.
John Yuan
Group Supply Chain & Quality Manager
John started his career studying mould design and manufacturing at the Nanjing Institute of Mechanical Technology before taking on a role as Project Manager in a leading engineering department, managing and developing new plastic components and relevant accessories for auto pump systems.
After four years he moved to a role as a senior process engineer for Johnson Electric, developing tools and jigs for plastic components as well as managing all new injection project processes; establishing the documentation systems, training engineers and staff, and consulting on injection moulding technology.
John joined the Warwick Music Group team in 2012 as Group Supply Chain & Quality Manager, and manages the supply chain based in China. John draws on his extensive experience in the industry to support our instruments' development and manage product manufacturing and delivery. He also plays the crucial role of monitoring and assessing quality control throughout the entire manufacturing process.
Julie Fews
Publishing Manager
Since graduating from University with a BA (Hons) in Music and Business Management and a PGCE in Primary Education, Julie has gathered over 20 years experience in primary education having worked as a classroom teacher, governor and deputy head of schools in the Midlands. Julie is also an accomplished brass musician, holding principal positions with top section brass bands performing in Europe, UK, USA and Australia.
From 2010 – 2018 Julie lived with her family in Sydney, Australia. During this time Julie combined her passion for music and education by taking the position as Primary School Band Director. Over seven years under her direction, Julie developed an inclusive band program that doubled in size, winning numerous prestigious awards and competitions including 'Commitment to Musical Excellence'. When her own children started school she took an active role in the Parents and Community Association, this takes the role of both the PTA and Board of Governors in Australia. In 2016 Julie was elected P&C President, equivalent to Chair of Governors and was commended in the NSW Parliament for her effort, commitment and achievements.
Julie is enthusiastic about the benefits to children of all abilities in learning and performing music and in 2017 she became Education Consultant for WMG in Australia where she successfully launched the pBuzz program. Julie secured strategic agreements with national and local distribution partners for pInstruments including School Bands Australia and Taylormade Music.
Since moving back to the UK, Julie continues to work for WMG in her current role as publishing manager for Warwick Music Publishing.
Brontë Askwith
Social Media Assistant
Brontë has been working in the music instrument industry for just over a year. She has a degree in music composition from the Institute of Contemporary Music Performance and has been involved in music from a young age. Brontë is a keen guitar player and classically trained singer and has a real passion for music education for children from all walks of life. She helps Warwick Music Group to reach their audience through social media platforms and engaging with customers that will benefit from affordable, sustainable, and lightweight instruments in their early years of music learning.
Education Ambassadors
Also part of the Warwick Music Group team, are a group of experienced music educators, teachers and champions who support our work in schools and bands across the world.
Darren Lea
Brass Band Ambassador
Darren began brass and percussion lessons at school at the age of 7, and is from a brass banding family. He has been privileged to be able to play with a number of brass groups and bands throughout the UK and europe, as well as playing with friends at the Brass Band of Central Florida in the USA on a number of occasions (including playing top man for the 2013 NABBA contest in Cincinnati). He was asked to help them on their last UK tour where they competed at the Brass in Concert championships.
Darren provides support to various brass bands across the UK which enables him to connect with and assist bands all over the country. A particular focus is helping organisations establish youth and community groups to introduce the next generation of musicians into the brass band movement.
As a huge brass band enthusiast (he was recently voted 'Bandsman of the Year' by his colleagues at Foden's Band), Darren works with bands, schools and organisations to share stories with our customers that highlight why music matters.
Helen Minshall
Education Ambassador
Helen's involvement in music began at the age of 12, when she started brass lessons at Ayr Academy, Ayrshire, Scotland, initially on French Horn, then Tuba. She joined the local Ayr Area Schools Brass Band, and then later progressed to adult bands in Ayrshire; Benquhat Band, and Dalmellington Band. In 1980 Helen was one of the first students to embark upon the brand new "Graduate Diploma in Band Musicianship" course at Salford College, at a time when it was very difficult for women to be accepted in the country's finest bands.
Helen has a vast amount of experience both as a performer and teacher. Over the last 30 years she has held teaching posts throughout the North West of England; in Wigan, Bury, Salford, and in 1988-9 she spent a year in the Sultanate of Oman, as Low Brass Tutor to the Royal Oman Symphony Orchestra. She has also worked as Bass Tutor with the National Children's Brass Band of Great Britain. After a successful 15 years as Head of Brass for Bolton Music Service, Helen is now pursuing a freelance career, and has set up a very successful music teaching company, Minshall Music LTD, working with her daughter, Samantha, and son in law, Neil.
Helen's many years of hard work with young people in brass bands were formally recognized in 2014 when she was presented with the Mortimer Medal for services to young people in the brass band movement, from the Worshipful Company of Musicians. This followed a number of previous awards; Rotary's Paul Harris Fellowship, Family and Community Service Award, Soroptimist Woman in the Community Award and 25 Years Service to Brass Bands.
Helen and her husband Stephen started the highly successful Astley Youth Band in 1994, and currently there are 3 bands within the organization with over 100 members. Helen is currently Musical Director of Astley Unlimited Band, and also directs the Lancashire Youth Brass Band. Helen thoroughly enjoys working with all her bands, and is committed to helping players of all ages to achieve their best.
Richard Harvey
Education Ambassador
Richard Harvey MMus BMus(Hons) FRSM AMusTCL was born in Slough in 1973 and began learning the trombone at the age of eleven. Leaving school at sixteen, he joined the Royal Marines Band Service and studied under the renowned orchestral trombonist Albert Thompson. During his time under training Richard won the prestigious Cassel Prize – an annual instrumental competition, and was subsequently awarded a silver medal by the Worshipful Company of Musicians.
In 1994 he was drafted to the band onboard Her Majesty's Yacht Britannia and spent the next three years travelling extensively around the world, performing to world leaders such as Bill Clinton and Nelson Mandela, as well as Her Majesty The Queen and other members of the Royal Family.
Richard began conducting in earnest in 2003, and after completing the year-long Bandmasters' Course at the Royal Marines School of Music, he enjoyed tenures as the conductor of the Warsash Community Band and Southampton Concert Wind Band – an ensemble consisting of over fifty instrumentalists – and during his time with them he led the band on a very successful tour of Bavaria. In 2007 Richard was selected for commission, promoted Captain Royal Marines and appointed a Director of Music, and over the next six years he ran three RM bands, took a year's sabbatical to study for his Master's degree at the Royal Northern College of Music and served on a six-month operational tour to Afghanistan as the Adjutant of the United Kingdom Medical Group – a challenging yet rewarding experience.
In 2012 Richard became the first member of Her Majesty's Royal Marines to be admitted a Fellow of the Royal Schools of Music before retiring from the Service after a full military career in 2013. In 2015 Richard was appointed Bandmaster of the prestigious and historic Royal Hospital School in Suffolk; only the sixth incumbent of the role since 1906, and over the next three years was responsible for running the concert band, parade band, brass ensemble, orchestra and big band; the highlight of which included a performance for HM The Queen at Newmarket.
In September 2019 Richard took up his current position as Lecturer in Classical Performance and Conducting at the University of Salford, where his duties include conducting the famous university brass band. In February 2020 Richard led the band to victory at the UniBrass contest, competing against prestigious institutions such as the Royal Northern College of Music.
Richard is also the founding owner of Blast Off Brass; a workshop-based initiative to introduce brass playing to primary school pupils using the revolutionary pBuzz instruments, and in September 2020 he was incredibly proud to assume the role of Education Ambassador for Warwick Music Group. Richard said: "I have worked alongside WMG on various projects over the last five years or so, and have always been impressed by their innovative approach to music education. I am a fan of the pBuzz and use it to great effect in my workshops, and I am looking forward to incorporating the new pBugle into my sessions. I am incredibly excited to have been given this new role, and I am keen to get involved in as many projects with them as I can."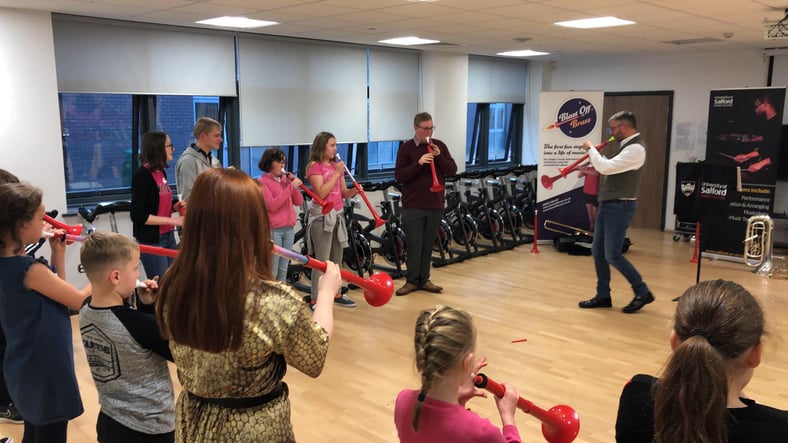 Richard has performed at the Royal Albert Hall as a soloist and twice as a conductor at the Mountbatten Festival of Music. He composed The Forces Anthem to Her Majesty which was performed live on television by over 3,000 service personnel in the presence of HM The Queen on the occasion of her Diamond Jubilee celebrations, and his original composition Am Sailing to Westward, which depicts in words and music the fateful story of HMS Trinidad, was performed live at the Mountbatten Festival of Music 2012. His most recent composition, Sleep, Beneath the Wave, was written to commemorate the 101 Royal Hospital School alumni who died during the Battle of Jutland in 1916, and received its first performance in the presence of HRH The Duke of York. Richard is currently engaged in a research project examining the life and work of the English composer, George Lloyd, who himself was a Royal Marines musician.
"Someone once said to me that education is the inheritance you cannot spend. If that is true, then a musical education is a tax-free, compound-interest-earning golden egg full of winning lottery tickets."
Grant Golding
Education Ambassador
Grant started his musical journey in the local brass band in idyllic Swaledale in Yorkshire. As a pupil at Richmond School Grant was a member of their multi award winning Wind Band and this inspired him to take music as a career. As a student at the Royal Scottish Academy of Music & Drama Grant received tuition from Nigel Boddice and John Gracie.
As well as receiving masterclasses from Anthony Plog, Ed Carroll, John Wallace and Michael Laird. Grant was the recipient of the Barcapel Foundation Scholarship, Countess of Munster Musical Trust Award and the Governors Recital Price. In his time as a freelance musician he has worked with the Royal Scottish National Orchestra, BBC Scottish Symphony Orchestra and Scottish Opera.
As a soloist he has performed alongside John Wallace in the premier of Macmillan's Epiclesis, performed the Haydn Concerto with the BBCSSO and at the RSAMD performed the Martin Concerto for 7 winds with Martyn Brabbins. Grant has performed extensive recitals around the World including Memphis, Chicago, Oman, Amsterdam, Hilversum and Flensberg, Closer to home Grant performed in a wide range of venues from small village churches to many of the major cathedrals in the UK.
As an educator he works with local authorities in Scotland teaching around 200 pupils per week. This includes his ground breaking work with Dumfries & Galloway remote teaching project. Which has included working with the London Symphony Orchestra and Royal Conservatoire of Scotland. In 2004 Grant was awarded Yamaha Music Instructor Regional Award. Grant teaches at all levels from his whole class band projects to his work as trumpet tutor at the University of Aberdeen.