About Warwick Music Group
In just five years, Warwick Music Group's team of musicians, entrepreneurs and enthusiasts became world-leaders and the leading manufacturer of brass instruments created in recyclable ABS plastic. Their innovative approach has radically changed a sector of the music market that has experienced little change for two centuries.
Based in Warwickshire, England, Warwick Music Group (WMG) now spans four continents: North America, Europe, Asia and Oceania (Australia) with an international and passionate team who care about music and music education.
Why Music Matters
We believe in the way in which music can transform lives, support educational achievement and bring people together. We also believe everyone should have the opportunity to make music. By creating high quality, durable and affordable wind and brass instruments the company is making the joy of music both accessible, sustainable and fun. Our very own pMums have written a blog about Why Music Matters.
Our Origins
The company was originally formed as a music publisher in 1994 by two trombonists, Simon Hogg and Steven Greenall. Their first publication was a previously unknown work written in 1894 by eminent British composer and trombonist Gustav Holst. Our sheet music catalogue, Warwick Music Publishing is now a digital download service for consumers. It features more than 1,000 titles covering a variety of genres, styles and abilities and representing composers from across the globe.
Why we invented the world's first plastic trombone
As musicians, we knew that traditional brass instruments can be heavy, costly – and easily damaged. What's more, they don't always fit little hands! We knew too that sales of traditional brass instruments were declining – and that bands and orchestras worldwide were reporting a shortage of brass players.
So we set out to do something about it.
We wondered if it was possible to create a brass instrument in plastic; to create the same sound as a brass instrument but without the cost, the weight or the damage if it is dropped. We started thinking what fun it would be if brass instruments were not just brass coloured – but available in a whole variety of colours.
Creating the world's first plastic trombone was not easy (we didn't expect it to be) but there was so much help and enthusiasm – and so much support for what we were setting out to do – that we kept at it.
And so, after many trials (and quite a few tears) in late 2010, we sold our very first pBone: it was the world's first plastic trombone and we're rather proud to say, it has gone on to become the world's best-selling trombone.
If you're particularly interested in the science behind our invention, please read the article written by the Royal Academy of Engineering (Ingenia Magazine, Vol 82).
Our Awards and Accolades
2021: Warwick Music Group becomes world's first instrument manufacturer to join the SME Climate Hub
2020: Warwick Music Group partners with Biomaster for instrument anti-microbial protection
2020: All Warwick Music Group products are independently accredited as Carbon Neutral
2020: Institute of Directors - Director of the Year Finalist (Steven Greenall)
2019: Queen's Award for Enterprise for Innovation (pBone)
2019: Appointed an Export Champion by the UK Government's Department for International Trade
2019: Best Teaching Tool for Intermediate Students, NAMM 2019 - Annual School Band & Orchestra Best Tools for Schools Award (pTrumpet hyTech)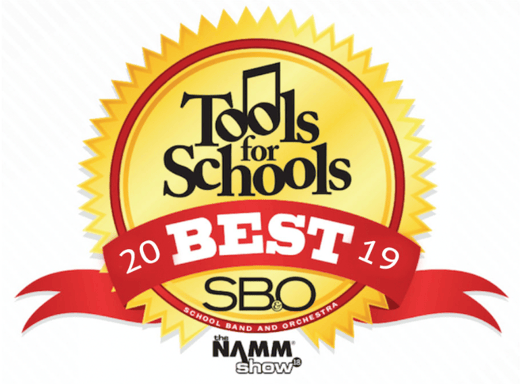 2018: The Spectator Economic Disruptor of the Year Awards - Midlands Winner (Warwick Music Group)
2018: Teach Primary Resource Awards for Best Music Resource (pBuzz KS1 Music Teaching Resource)
2017: Mills & Reeve Innovation 50 (Warwick Music Group)
2016: Warwick Music Groups becomes a member of Made in Britain
2016: Horners Award for Plastics Innovation and Design (pTrumpet)
2016: Music Teacher Awards Education Product of the Year (pTrumpet)
2016: Best in Show at NAMM "Gotta Stock It" (pTrumpet)
2013: National Business Awards for Innovation (Warwick Music Group)
2013: Nectar Small Business Awards Innovation of the Year (pBone)


2012: Best in Show at NAMM "Best in Show" (pBone)
Intellectual Property Rights
Our trademarks are registered internationally and include pBone®, pTrumpet®, pCornet®, pBuzz®, BrassTabs®, pInstruments®, pHorn®, pPlay®, pBugle®, pBach®, preBone®, Warmahorn®, pFlute®, pClarinet®, pSax®, and pBand®.
Our products are protected by international patents, patents pending, registered designs, and unregistered design rights across the world including the United Kingdom, Europe, China, Japan, Brazil, Hong Kong, and the United States.
We are proud to be represented by an expert team of patent attorneys including:
Professional Affiliations
Warwick Music Group are members of the following music industry bodies and professional associations
Warwick Music Limited is registered in England and Wales, Company Number 04371344.
Registered Office: Rock Farm Business Centre, Seckington, Warwickshire, B79 0LA, United Kingdom.
Warwick Music Inc is a wholly-owned subsidiary of Warwick Music Limited, registered in the State of Indiana, United States.
Registered Office: 131 S Taylor St, South Bend, Indiana 46601, United States.
Warwick Music Publishing is a division of Warwick Music Limited.